SEO Auto Pages - Wordpress Plugin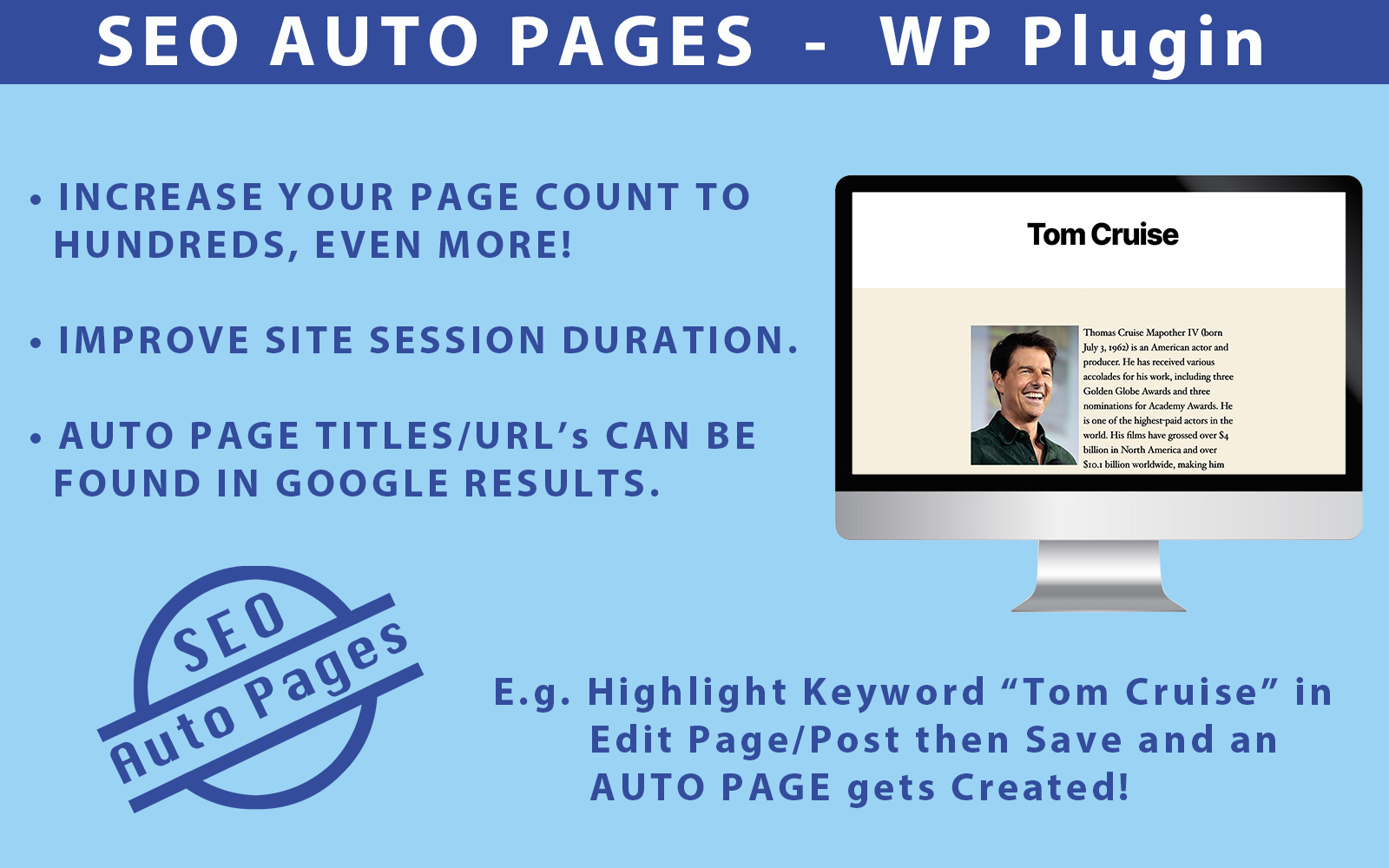 Description:
Description:
A typical Website usually needs More Pages to attract Users and keep them on the site. Websites need Quantity and Quality. The SEO Auto Pages - Wordpress Plugin can Increase the Number of Pages on your Website in no time! Quite simply, Highlight Well Known Keywords (like "Tom Cruise", "Accounting", "Tomato", "SEO" etc.) in your Edit Page/Post Screen and an Auto Page gets Created. Increase your Page Count to 100's and more!
Features:
• Edit Page/Post, highlight a Well Known Keyword and an Auto Page (with definition) get created.
• Increase your Page Count to 100's of Pages and more!
• More Fun Content for Users to read. Better Internal Linking and Session Duration.
• Auto Page URL's may appear in Google Search Results and may give you a better Site Ranking.
Requirements:
You must have installed Wordpress Version 4.0 to 5.7 It will probably work for Future Versions but it hasn't been tested for 5.7.2+
Installation:
• Purchase and Download the seo-auto-pages.zip file to your Computer. Go to your Plugins Page and Click on [Add New] then [Upload Plugin]. Browse and Select the file on your desktop and Activate.
• Important: You must Check that your Permalink Settings have been setup properly. Go to your Permalink Settings: http://[your-site]/wp-admin/options-permalink.php Under "Common Settings" it should be set to "Post name" or anything Other Than "Default". It can't be set to "Default" URL's. This is because the SEO Auto Pages Plugin uses Clean URL's.
Instructions:
• Find an Existing Page/Post on your Site with Well Known Keywords. Edit this Page/Post. If you are thin on Content you can also Create a New Page/Post with Well Known Keywords and Edit that Page/Post.
• By Well Known Keywords we mean Words/Phrases that probably have a Definition on the Internet. In your Content Find a Well Known Keyword such as "Tom Cruise" or "Car" etc. Then in the Visual Editor "both Bold then Italic" this Keyword. So if the Keyword is "Tom Cruise" it will end up looking like Tom Cruise. Then [Update] then [VIEW] your Page/Post. The Keyword you have Highlighted has now been turned into a Link! Click on the Link (e.g. /keyword/tom-cruise/) and you will be taken to an Auto Page Definition of "Tom Cruise". There is also a list of Articles listed below where the Keyword appears in.
• Sometimes the Auto Page will show a Correct Definition with both Text and Image. Sometimes Just Text and No Image. Sometimes it will show No Definition for the Keyword. It's up to you to Test Each Auto Page that you Create. The Definition comes from an Online API. If you find No Definition the Article List of where this Keyword Appears will be displayed regardless and you may want to keep these Empty Auto Pages, it's up to you.
• If you are Not Satisfied with the Auto Definition Page (because there is No Definition or it's the Wrong Definition then simply go to the Post/Page and Unhighlight (un-bold and un-italic) that Keyword then click [UPDATE] Page/Post. Then that Keyword will remain Normal Text like it used to be. Play around and see which of your Keywords Generate the Best Definition Content :)
• The Site Index Page "/site-index" lists all your Special Keywords. We Strongly Recommend you create a LINK to "/site-index/" page in your Main Navigation Menu. This way the Google Crawler will go to /site-index then Crawl all your Special Auto Page URL's.
• To take advantage of the Traffic that the Auto Pages will give you, you can place a Link to your Contact Us Page or an Actual Small Contact Form on the Right Hand Column of your Theme.
Optional
To improve your chances of the Auto Pages URL's being found by Google Results, submit a Special Sitemap to Google:
• Make sure that the WP Plugin Google XML Sitemaps won't interfere with any of your other Sitemap Plugins. If everything's ok Download & Activate the Google XML Sitemaps Plugin: https://wordpress.org/plugins/google-sitemap-generator. Then go to the page: http://[your-site]/wp-admin/options-general.php?page=google-sitemap-generator%2Fsitemap.php Scroll down to "Additional Pages". Then set the following fields - URL to the page: http://[your-site]/site-index Priority: 1 Change Frequency: Always Last Changed: [todays-date]
• Then Submit the special Sitemap https://[your-site]/sitemap-externals.xml to your Google Search Console Sitemap Section. Now there is a better chance the Auto Page URL's will be indexed by Google.
FAQ
• How do I Highlight a Keyword to Create an Auto Page? You must Both Bold and Italic the Keyword. Say you Highlight the Keyword "Car", it would then appear as Car. Then click [Update] Post/page. Then when you View the Post/Page that Keyword will become a Link to it's Auto Page.
• My Auto Page doesn't pull in Any Definition Content That means the Auto Page didn't return any definition Online API Content. You can still keep the Auto Page as a List of where this Keyword Appears. But if you want to remove it Edit your Page/Post and Unhighlight (Remove Bold/Italic) that Keyword and click on [Update].
• My Auto Page pulled in the Wrong Definition Content Sometimes an Auto Page will show the Wrong Definition Content. For example if you Highlight the Keyword "SEO" the Auto Page Definition may be an alternate definition to "SEO" and not what you want. In this case Edit your Page/Post and Unhighlight (Remove Bold/Italic) that Keyword and click on [Update] and it will remove the Auto Page.
Color:
white, blue, cyan,
WordPress Compatibility:
4.0.x, 4.1.x, 4.4.x, 4.8.x, 4.9.x, 5.1.x, 5.2.x, 5.3.x, 5.4.x, 5.5.x, 5.6.x, 5.0.x, 4.7.x, 4.6.x, 4.5.x, 4.3.x, 4.2.x, 5.7.x,
Features:
Premium, Search Engine Friendly, Blog,
wordPressBuilder:
Elementor Website Builder, Beaver Builder,
Template Software Required:
WordPress 4.0.x, WordPress 4.1.x, WordPress 4.2.x, WordPress 4.3.x, WordPress 4.2.x-4.9.x, WordPress 5.0-5.2.x,
tags:
automatic, builder, content, creator, description, generator, import, keywords, links, post, title, wordpress, seo, plugin, url, miscellaneous, generate, meta tags, wikipedia, more pages,
Topic:
Advertising, Affiliate, Marketing, SEO,
Free 24/7
Support Team

Ready Solutions
For Business

Premium
Quality

1 200 000+

Satisfied Customers
"Template #" 185871
Тип:
WordPress Plugins
Author:
DevForSEO
Downloads:
4
$41
Live Demo
Buy
Color:
white, blue, cyan,
WordPress Compatibility:
4.0.x, 4.1.x, 4.4.x, 4.8.x, 4.9.x, 5.1.x, 5.2.x, 5.3.x, 5.4.x, 5.5.x, 5.6.x, 5.0.x, 4.7.x, 4.6.x, 4.5.x, 4.3.x, 4.2.x, 5.7.x,
Features:
Premium, Search Engine Friendly, Blog,
wordPressBuilder:
Elementor Website Builder, Beaver Builder,
Template Software Required:
WordPress 4.0.x, WordPress 4.1.x, WordPress 4.2.x, WordPress 4.3.x, WordPress 4.2.x-4.9.x, WordPress 5.0-5.2.x,
tags:
automatic, builder, content, creator, description, generator, import, keywords, links, post, title, wordpress, seo, plugin, url, miscellaneous, generate, meta tags, wikipedia, more pages,
Topic:
Advertising
,
Affiliate
,
Marketing
,
SEO
,